Step into the ultimate showdown: 2023 CMA US vs India!
Join our informative blog as we explore the crucial differences between these powerhouses. Discover what sets each CMA qualification apart and unlock a world of insights.
From career prospects to exam structure, we've got you covered. Get ready for an enlightening journey that will leave you empowered. Let's dive in together!
What is CMA?
CMA is an acronym for Certified Management Accountants. The CMA designation is among the most respected and recognised credentials in the accounting and finance professions. CMAs are sought-after by employers for their ability to provide strategic financial insight and guidance. The CMA credential gives holders a competitive advantage in the job market and can lead to career advancement and higher salaries.
What is CMA – US?
The Certified Management Accountant (CMA) – US credential is the global gold standard for management accountants. It can be earned by passing an intensive two-part exam with two years of relevant experience. Administered by IMA, the world's largest management accounting body.
The CMA – US credential is widely recognised and respected by employers and is the preferred credential for management accountants in the United States and many other countries.
What is CMA – India?
CMA India refers to the Certified Management Accountant certification offered by the Institute Cost Accountants of India (ICAI). CMA India is a prestigious professional qualification recognised by the Ministry of Corporate Affairs and other regulatory bodies in India. It equips individuals with expertise in cost management, financial analysis, and strategic decision-making.
Difference Between CMA – US vs CMA India
1. Course Fees of CMA US vs CMA India
Here is a general overview of the course fees for CMA in both the US and India: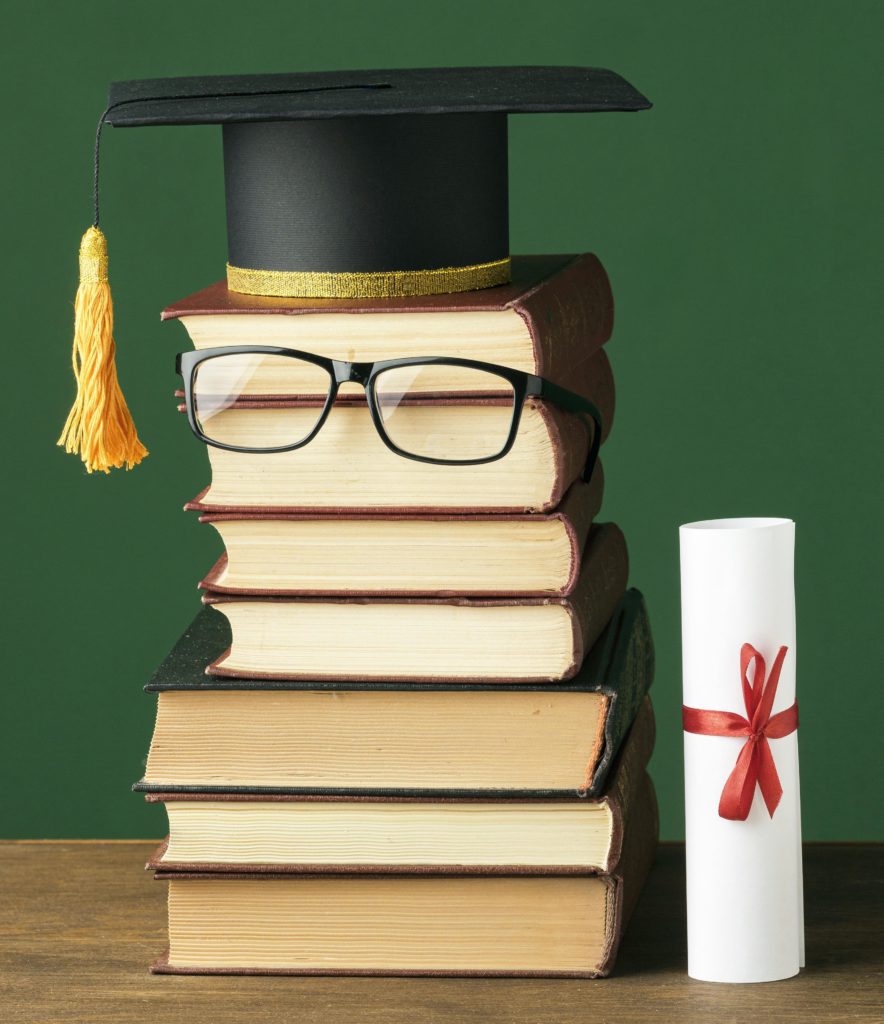 Course fee of CMA – US
For Professional Members and Students, there are separate CMA USA course fees. The most recent CMA USA course fees are below:
Course fee of CMA India
CMA INDIA has 3 levels – Foundation, Intermediate and Final. The fees of the CMA Foundation should be paid on time. In contrast, CMA Intermediate and Final fees can be paid in instalments.
| | |
| --- | --- |
| Level | Course Fee |
| Foundation | INR 6000 |
| Intermediate | INR 23,100 |
| Final | INR 25,000 |
The total cost for the CMA India course is INR 54,100.
2. Recognition of CMA India vs CMA US
Accountants are highly regarded professionals crucial in financial management, providing financial reporting, analysis, and compliance expertise.
Recognition of CMA – US
The CMA (US) designation is recognised and respected in numerous countries worldwide. Some countries where the CMA designation holds value and credibility include the United States, Canada, Australia, the United Kingdom, India, the United Arab Emirates (UAE), Saudi Arabia, Singapore, China, and others.
However, it's important to note that recognition and acceptance of the CMA designation may vary based on specific regulatory requirements and local market preferences in each country.
Recognition of CMA India
CMA India is primarily recognised and valued within India. While the CMA India designation may be respected by some employers or organisations outside of India, its recognition and acceptance may vary depending on the specific country and industry.
Whereas CMA – India has been going global for the past few years. It is recognised in UAE and some other Gulf countries.
Globally recognised qualifications like CMA (US) or ACCA (Association of Chartered Certified Accountants) may provide broader international recognition and mobility.
3. The Course Duration of CMA US vs CMA India
Generally, The duration may vary based on individual study pace and success in clearing each level within the prescribed time.
Course Duration of CMA – US
The CMA (US) program typically takes 1 to 2 years to complete, depending on the individual's study pace and commitment. The program has two parts, each with a recommended study time of approximately 150-170 hours.
Course Duration of CMA India
The CMA India program, including the Foundation and Intermediate levels, typically takes 3 to 4 years to complete. The program consists of three stages: Foundation, Intermediate, and Final, with exams conducted biannually.
4. Salary of CMA – US vs CMA India
Experience, industry specialization, location, education, certifications, organization type, and market demand all impact the salary of CMA professionals.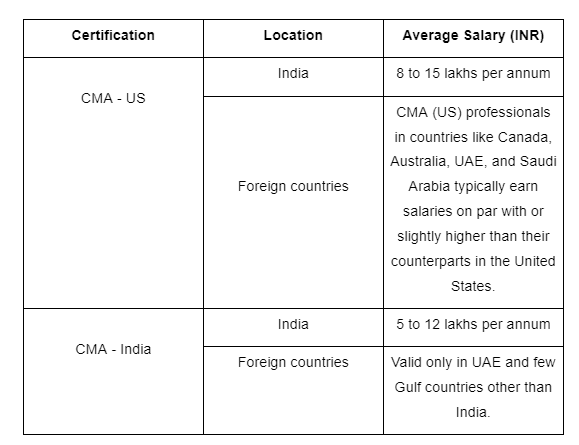 Quick recap
Factors
CMA US
CMA India
Respective Board
Institute of Management Accountants (IMA)
The Institute of Cost Accountants (ICmai)
Course fees
INR 70,000 to 1,00,000
INR 54,100
Duration
1 to 2 years
3 to 4 years
The average salary in India
8 to 15 lakhs per annum (INR)
5 to 12 lakhs per annum (INR)
Recognition
Global Recognition
Recognised only in INDIA and a few other countries
Levels
No levels. Only 2 parts.
Three levels
CMA Foundation courseCMA IntermediateCMA Final
As a final point
Thank you for joining us on this insightful journey exploring the crucial differences between 2023 CMA qualifications in the US and India. At Stride Edutech, we're committed to empowering your CMA journey with valuable knowledge and resources.
Understanding these disparities is vital for informed decisions and career shaping, whether in international opportunities or local excellence. The knowledge gained here serves as a strong foundation.
For further guidance or questions, our experienced team is here to help. Stay motivated, keep learning, and embrace the exciting world of CMA. Here's to your future success!
FAQ
1.Is the CMA (US) credential accepted in India?
The CMA (US) credential is accepted in India.
2.What fundamentally separates CMA (US) from CMA India?
The issuing body, curriculum, and level of international recognition are the main distinctions between CMA (US) and CMA India.
3.How do the CMAs in the US and India compare in terms of global recognition and employment opportunities?
Due to its widespread reputation and acceptability, CMA (US) offers greater international recognition and employment opportunities than CMA India.